Our Mission
The mission of FLARE is to create and sustain a network to promote and publicize research and education relevant to the contributions, lives, impacts, and lasting legacies of U.S. First Ladies.
Our Vision
FLARE will be the primary association to encourage interdisciplinary collaboration and outreach among scholars, institutions, First Ladies' staff, biographers, archivists, journalists, and public historians interested in research and education about the lasting legacy of U.S. First Ladies.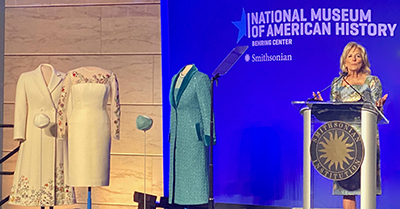 FLARE Focus on When The First Lady is an Educator, A Lesson Comes Dressed in Inaugural Clothing
Nichola D. Gutgold
One of the most popular exhibits at the Smithsonian's National Museum of American History is the First Ladies Exhibit. With over 1,000 items in the collection, the Smithsonian documents the lives and legacies of the women who have served in this invaluable role.[i] It was an honor to attend the ceremony of the presentation of the inaugural clothing of First Lady, Dr. Jill Biden, which she wore in January 2021 to President Biden's swearing-in and other celebratory events to mark the occasion..
←
December 2023
→
S
M
T
W
T
F
S
1
2
3
4
5

The Washingtons, the Custises, and the Making of America

December 5, 2023




5:30PM - 6:30PM EST

6
7
8
9
10
11

Heath Lee Interviews Author Rebecca Roberts

View on Facebook or on YouTube - link provided in the detailed information

December 11, 2023




7:00PM - 8:00PM EST

12
13
14
15
16
17
18

December 13, 1818

December 18, 2023

19
20
21
22

December 22, 1912

December 22, 2023

23
24
25
26
27
28
29
30
31
December 11, 2023
7:00PM - 8:00PM EST
Heath Lee Interviews Author Rebecca Roberts
View on Facebook or on YouTube - link provided in the detailed information
December 18, 2023
December 13, 1818
December 22, 2023
December 22, 1912