Our Mission
The mission of FLARE is to create and sustain a network to promote and publicize research and education relevant to the contributions, lives, impacts, and lasting legacies of U.S. First Ladies.
Our Vision
FLARE will be the primary association to encourage interdisciplinary collaboration and outreach among scholars, institutions, First Ladies' staff, biographers, archivists, journalists, and public historians interested in research and education about the lasting legacy of U.S. First Ladies.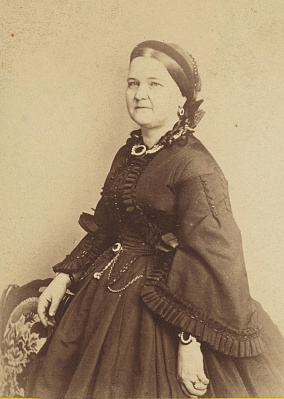 FLARE Focus on Mrs. Lincoln and Mental Health: A Short Apology
Haley Gray
Research reveals that First Lady Mary Todd Lincoln was very different as a child from who she evolved into as an adult. Mrs. Lincoln, as noted by many childhood friends, was the embodiment of joy and spontaneity; she was described as "the very creature of excitement" by a young lawyer in 1840. Later tales of Mrs. Lincoln depict a woman who was struck by tragedy, emotionally hurt, and mentally destroyed by the time of her death in 1882. She had no ability to take her case to social media or to engage with mental health awareness organizations. Instead, her life devolved partly through lack of understanding by the medical community, the courts, the people around her, and public opinion. Today, seven score and one year later, Mrs. Lincoln is deserving of compassion, care, and an apology.
←
March 2023
→
S
M
T
W
T
F
S
1
2
3
4
5
6
7
8
9

This program is presented in partnership with FLARE as well as KU's History and American Studies departments.

March 9, 2023




7:00PM - 8:15PM EDT

10
11
12

March 12, 1806

March 12, 2023

13

March 13, 1798

March 13, 2023

14
15

Watch your email for details!

March 15, 2023




7:00PM - 8:00PM

16

March 16, 1912

March 16, 2023

17
18
19
20
21
22
23

This program is presented in partnership with FLARE and and the Dole Institute of Politics..

March 23, 2023




7:00PM - 8:15PM EDT

24
25
26
27
28
29

March 29, 1874

March 29, 2023

30
31