Details

October 26, 2024
Hillary Rodham Clinton
October 26, 1947
Hillary Rodham Clinton — Born October 26, 1947 (Chicago, IL).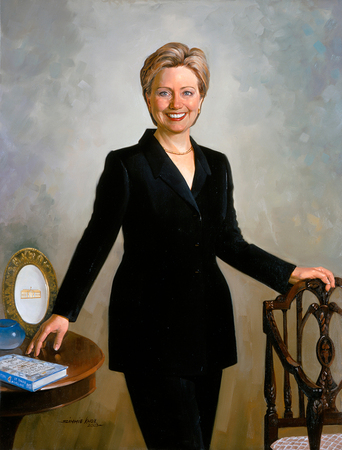 White House Years: 1993-2001
Hillary Clinton's family were Republicans, and she was "Goldwater Girl" in 1964 supporting Barry Goldwater's candidacy even though she was too young to vote.
Hillary Clinton attended Wellesley College where she was involved in student government and was the first student commencement speaker; her speech garnered headlines and coverage in Life She went on to Yale Law School serving on the Board of Editors for the Yale Review of Law and Social Action. She was the first first lady to have a law degree.
Hillary Clinton served on the Children's Defense Fund and joined the Richard Nixon impeachment inquiry staff for the House Judiciary Committee. She was selected by President Jimmy Carter to serve on the board of the Legal Services Corporation in 1978.
Hillary Clinton served as first lady of Arkansas for 12 years while she worked as an attorney and led initiatives to improve K-12 education.
When her husband, Bill Clinton, took office in 1992, Hillary Clinton headed the Task Force on National Health Care Reform, which broke precedent for first ladies and what they can do with that job title, but it also created controversy and was unsuccessful.
Hillary Clinton successfully worked with Congress to pass the Children's Health Insurance Program (CHIP and increased funding for medical research; she headed Save America's Treasures, a National Parks Services programs to protect structures and artifacts about the nation's history.
Being first lady was just the beginning for Hillary Clinton, as she then served as a senator from New York, served as President Barack Obama's Secretary of State, and received the Democratic Party nomination for president in 2016 becoming the first woman to head a major party ticket.
She is the only first lady to wear a pant suit for her official White House portrait.

Quote:
"There is no training manual for First Ladies. You get the job because the man you married becomes President...Like all First Ladies before me, I had to decide what I wanted to do with the opportunities and responsibilities I had inherited."
Add to Calendar
aCLuDhaqizCaPxAftmqF167204
10/26/2024
10/26/2024
true
Hillary Rodham Clinton
Hillary Rodham Clinton — Born October 26, 1947 (Chicago, IL).  White House Years: 1993-2001 Hillary Clinton's family were Republicans, and she was "Goldwater Girl" in 1964 supporting Barry Goldwater's candidacy even though she was too young to vote. Hillary Clinton attended Wellesley College where she was involved in student government and was the first student commencement speaker; her speech garnered headlines and coverage in Life She went on to Yale Law School serving on the Board of Editors for the Yale Review of Law and Social Action. She was the first first lady to have a law degree. Hillary Clinton served on the Children's Defense Fund and joined the Richard Nixon impeachment inquiry staff for the House Judiciary Committee. She was selected by President Jimmy Carter to serve on the board of the Legal Services Corporation in 1978. Hillary Clinton served as first lady of Arkansas for 12 years while she worked as an attorney and led initiatives to improve K-12 education. When her husband, Bill Clinton, took office in 1992, Hillary Clinton headed the Task Force on National Health Care Reform, which broke precedent for first ladies and what they can do with that job title, but it also created controversy and was unsuccessful. Hillary Clinton successfully worked with Congress to pass the Children's Health Insurance Program (CHIP and increased funding for medical research; she headed Save America's Treasures, a National Parks Services programs to protect structures and artifacts about the nation's history. Being first lady was just the beginning for Hillary Clinton, as she then served as a senator from New York, served as President Barack Obama's Secretary of State, and received the Democratic Party nomination for president in 2016 becoming the first woman to head a major party ticket. She is the only first lady to wear a pant suit for her official White House portrait. Quote: "There is no training manual for First Ladies. You get the job because the man you married becomes President...Like all First Ladies before me, I had to decide what I wanted to do with the opportunities and responsibilities I had inherited."
----
---