Details

October 11, 2024
Eleanor Roosevelt
October 11, 1884
Anna Eleanor Roosevelt — Born October 11, 1884 (New York City, NY). Died November 7, 1962 (New York City, NY).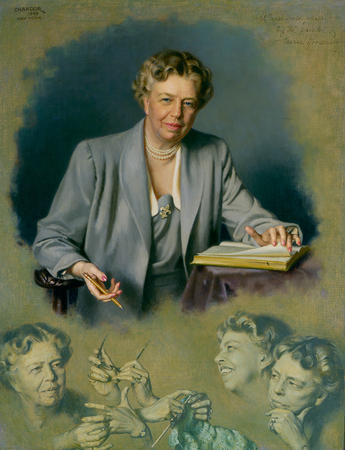 White House Years: 1933-1945
Eleanor Roosevelt had an excellent education from a distinguished school in England which she obtained when she was just 15.
When Franklin D. Roosevelt came down with polio, Eleanor Roosevelt joined the women's division of the State Democratic Committee just so she could keep her husband in the political realm.
As first lady for over 12 years, Eleanor Roosevelt accomplished a great deal. She broke precedent and held her own press conferences solely for women journalists, and she expressed her opinion on matters in a newspaper column, "My Day" and in magazine columns and on radio broadcasts.
Eleanor Roosevelt spoke to the American people in a radio address before her husband went to Congress for a Declaration of War.
Because of her husband's disability due to polio, Eleanor traveled the country to keep him better informed.
In 1940 she became the first first lady to speak at a national nominating convention.
After her 12 years in the White House, Eleanor Roosevelt became an American spokesperson for the United Nations and was responsible for overseeing the drafting of the UN's Declaration of Human Rights. She continued a life of public service up until her death in 1962.
Quote:
"You gain strength, courage, and confidence by every experience in which you stop to look fear in the face. You are able to say to yourself, 'I lived through this horror. I can take the next thing that comes along.' The danger lies in refusing to face the fear, in not daring to come to grips with it. If you fail anywhere along the line, it will take away your confidence. You must make yourself succeed every time. You must do the thing you think you cannot do."
Add to Calendar
aCLuDhaqizCaPxAftmqF167204
10/11/2024
10/11/2024
true
Eleanor Roosevelt
Anna Eleanor Roosevelt — Born October 11, 1884 (New York City, NY).  Died November 7, 1962 (New York City, NY). White House Years: 1933-1945 Eleanor Roosevelt had an excellent education from a distinguished school in England which she obtained when she was just 15. When Franklin D. Roosevelt came down with polio, Eleanor Roosevelt joined the women's division of the State Democratic Committee just so she could keep her husband in the political realm. As first lady for over 12 years, Eleanor Roosevelt accomplished a great deal. She broke precedent and held her own press conferences solely for women journalists, and she expressed her opinion on matters in a newspaper column, "My Day" and in magazine columns and on radio broadcasts. Eleanor Roosevelt spoke to the American people in a radio address before her husband went to Congress for a Declaration of War. Because of her husband's disability due to polio, Eleanor traveled the country to keep him better informed. In 1940 she became the first first lady to speak at a national nominating convention. After her 12 years in the White House, Eleanor Roosevelt became an American spokesperson for the United Nations and was responsible for overseeing the drafting of the UN's Declaration of Human Rights. She continued a life of public service up until her death in 1962. Quote: "You gain strength, courage, and confidence by every experience in which you stop to look fear in the face. You are able to say to yourself, 'I lived through this horror. I can take the next thing that comes along.' The danger lies in refusing to face the fear, in not daring to come to grips with it. If you fail anywhere along the line, it will take away your confidence. You must make yourself succeed every time. You must do the thing you think you cannot do."
----
---