Details

August 15, 2024
Florence Kling Harding
August 15, 1860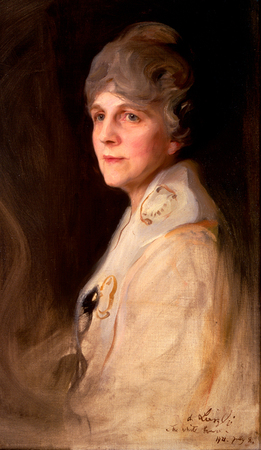 Florence Kling Harding - August 15, 1860 (Marion, OH). Died November 21, 1924 (Marion, Ohio).
White House Years: 1921-1923
o Florence Harding grew up in a privileged setting; after high school she attended the Cincinnati Conservatory of Music studying piano.
o She held several jobs including working for her father's business where she learned bookkeeping and business management.
o She eloped with Henry De Wolfe at age 19. There is some question as to whether it was a formal marriage or common law. After the birth of their son, Henry abandoned them, and Florence filed for divorce. She resumed her birth name and returned home but refused to move back in with her parents. She paid for her own house and earned money teaching piano lessons.
o Five years after her divorce, she married Warren G. Harding began, owner of the Daily Marion Star. When Harding started his political career, Florence Harding took over the newspaper and saw it flourish while being cost effective.
o She and her husband often hosted garden parties for World War I veterans and promoted themselves as celebrities by having visitors at the White House ranging from Albert Einstein and Madame Curie to Al Jolson.
o With the passage of the 19th Amendment, she encouraged women and girls to learn about government and become active participants. She was the first first lady to cast a vote.
o Florence Harding traveled with her husband on his trip to the West which ended in his death in San Francisco in 1923. She died one year later.
Quote:
"I have only one real hobby - my husband."
Add to Calendar
aCLuDhaqizCaPxAftmqF167204
08/15/2024
08/15/2024
true
Florence Kling Harding
Florence Kling Harding - August 15, 1860 (Marion, OH). Died November 21, 1924 (Marion, Ohio). White House Years: 1921-1923 o Florence Harding grew up in a privileged setting; after high school she attended the Cincinnati Conservatory of Music studying piano. o She held several jobs including working for her father's business where she learned bookkeeping and business management. o She eloped with Henry De Wolfe at age 19. There is some question as to whether it was a formal marriage or common law. After the birth of their son, Henry abandoned them, and Florence filed for divorce. She resumed her birth name and returned home but refused to move back in with her parents. She paid for her own house and earned money teaching piano lessons. o Five years after her divorce, she married Warren G. Harding began, owner of the Daily Marion Star. When Harding started his political career, Florence Harding took over the newspaper and saw it flourish while being cost effective. o She and her husband often hosted garden parties for World War I veterans and promoted themselves as celebrities by having visitors at the White House ranging from Albert Einstein and Madame Curie to Al Jolson. o With the passage of the 19th Amendment, she encouraged women and girls to learn about government and become active participants. She was the first first lady to cast a vote. o Florence Harding traveled with her husband on his trip to the West which ended in his death in San Francisco in 1923. She died one year later. Quote: "I have only one real hobby - my husband."
----
---