Details

July 28, 2024
Jacqueline Bouvier Kennedy
July 28, 1929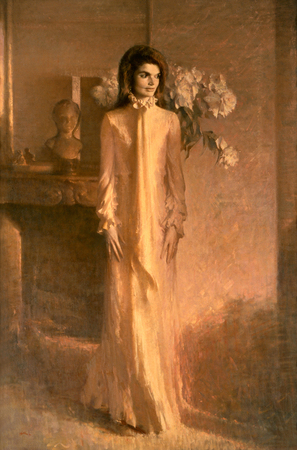 Jacqueline Bouvier Kennedy – Born July 28, 1929 (Southampton, NY); Died May 19, 1994 (Manhattan, NYC, NY)
White House Years: 1961-1963
○ She had a lifelong interest in historical preservation and undertook the restoration of the White House. She created the first professional museum and curatorial staff to care for the White House treasures, and in 1962 led a televised tour of the White House which earned an honorary Emmy Award. She started the White House Historical Association in 1961.
○ She was known for her elegant and gracious entertaining and invited great artists and intellectuals to the White House.
○ She was the first first lady to have a press secretary.
Quotes:
- "The one thing I do not want to be called is First Lady. It sounds like a saddle horse. Would you notify the telephone operators and everyone else that I'm to be known simply as Mrs. Kennedy, and not as First Lady."
Add to Calendar
aCLuDhaqizCaPxAftmqF167204
07/28/2024
07/28/2024
true
Jacqueline Bouvier Kennedy
Jacqueline Bouvier Kennedy – Born July 28, 1929 (Southampton, NY); Died May 19, 1994 (Manhattan, NYC, NY) White House Years: 1961-1963 ○      She had a lifelong interest in historical preservation and undertook the restoration of the White House.  She created the first professional museum and curatorial staff to care for the White House treasures, and in 1962 led a televised tour of the White House which earned an honorary Emmy Award.  She started the White House Historical Association in 1961. ○      She was known for her elegant and gracious entertaining and invited great artists and intellectuals to the White House. ○      She was the first first lady to have a press secretary. Quotes: -       "The one thing I do not want to be called is First Lady. It sounds like a saddle horse. Would you notify the telephone operators and everyone else that I'm to be known simply as Mrs. Kennedy, and not as First Lady."
----
---