Details

June 8, 2024
Barbara Pierce Bush
June 8, 1925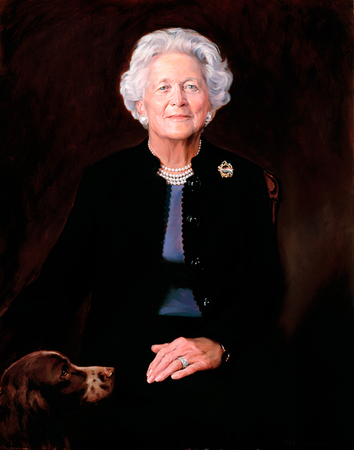 Barbara Pierce Bush – Born June 8, 1925 (Manhattan, New York City, NY); Died April 17, 2018 (Houston, TX)
White House Years: 1989-1993
○ Her 1990 commencement address at Wellesley was voted by rhetoric experts as one of the top 100 political speeches of the 20th century.
○ She was the first first lady to appear on "Sesame Street."
○ She dedicated her time to the promotion of literacy which she began as second lady, and she wrote two books from the perspective of the Bush's dogs. Proceeds went to her literacy foundation.
○ As first lady she also emphasized the importance of volunteering for causes such as homelessness, AIDS, the elderly, and school volunteer programs.
○ She was the first first lady to live to see a son become president.
After her time as first lady, Barbara Bush continued her push for literacy and served on the boards for AmeriCares and the Mayo Clinic.
Quotes:
- "Today you can no longer say, 'The drug problem worries me' or 'Crime worries me' or 'Illiteracy worries me.' If it worries you, then you've got to do something about it."
Add to Calendar
aCLuDhaqizCaPxAftmqF167204
06/08/2024
06/08/2024
true
Barbara Pierce Bush
Barbara Pierce Bush – Born June 8, 1925 (Manhattan, New York City, NY); Died April 17, 2018 (Houston, TX) White House Years: 1989-1993 ○      Her 1990 commencement address at Wellesley was voted by rhetoric experts as one of the top 100 political speeches of the 20th century. ○     She was the first first lady to appear on "Sesame Street."  ○     She dedicated her time to the promotion of literacy which she began as second lady, and she wrote two books from the perspective of the Bush's dogs. Proceeds went to her literacy foundation.  ○     As first lady she also emphasized the importance of volunteering for causes such as homelessness, AIDS, the elderly, and school volunteer programs.  ○     She was the first first lady to live to see a son become president. After her time as first lady, Barbara Bush continued her push for literacy and served on the boards for AmeriCares and the Mayo Clinic. Quotes: -       "Today you can no longer say, 'The drug problem worries me' or 'Crime worries me' or 'Illiteracy worries me.' If it worries you, then you've got to do something about it."  
----
---