Details

June 3, 2024
Dr. Jill Jacobs Biden
June 3, 1951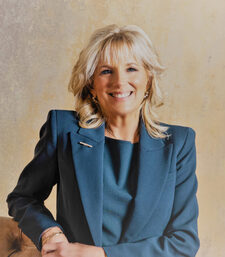 Dr. Jill Jacobs Biden – Born June 3, 1951 (Hammonton, NJ)
White House Years: 2021-
○ She is the first first lady to continue working in the role of first lady. She currently is a professor of English at Northern Virginia Community College.
○ She is the first first lady to earn a graduate doctoral degree.
○ She advocates for military families, cancer research, and education.
○ In 2010 as second lady she and President Obama hosted the first White House summit on community colleges,
Along with her husband, Jill Biden founded the Biden Foundation in 2017, which focuses on foreign policy, cancer research, community colleges, military families, protecting children, equality, ending violence against women, and strengthening the middle class.
Quotes: "Teaching isn't just what I do, it's who I am."
- "We have asked a lot of our military families and I believe they deserve the very best efforts of each of us to show them how much we appreciate their service to our country."
Add to Calendar
aCLuDhaqizCaPxAftmqF167204
06/03/2024
06/03/2024
true
Dr. Jill Jacobs Biden
Dr. Jill Jacobs Biden – Born June 3, 1951 (Hammonton, NJ) White House Years: 2021-  ○      She is the first first lady to continue working in the role of first lady. She currently is a professor of English at Northern Virginia Community College.  ○      She is the first first lady to earn a graduate doctoral degree.  ○      She advocates for military families, cancer research, and education.   ○     In 2010 as second lady she and President Obama hosted the first White House summit on community colleges, Along with her husband, Jill Biden founded the Biden Foundation in 2017, which focuses on foreign policy, cancer research, community colleges, military families, protecting children, equality, ending violence against women, and strengthening the middle class. Quotes: "Teaching isn't just what I do, it's who I am." -     "We have asked a lot of our military families and I believe they deserve the very best efforts of each of us to show them how much we appreciate their service to our country."
----
---