Details

April 19, 2024
Lucretia Rudolph Garfield
April 19, 1832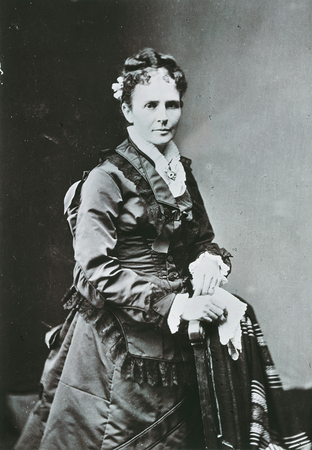 Lucretia Rudolph Garfield—Born April 19, 1832 (Garrettsville, OH). Died March 13, 1918 (South Pasadena, CA).
White House Years: March 1881 to September 1881
First Lady Lucretia Garfield preferred learning to social gatherings, and she and her husband attended literary society meetings while he worked in Congress.
Lucretia and James Garfield grew up together but didn't consider a marriage until they ran into each other at the Western Reserve Eclectic Institute.
Lucretia Garfield fell gravely ill with malaria shortly after entering the White House; she recovered in New Jersey instead of the capital, but as soon as she heard of the shooting of her husband, she quickly returned to be with him.
For three months Lucretia Garfield sat by her husband's side. The country respected her bravery and strength.
Following her husband's death, Lucretia Garfield moved her family back to Ohio and spent time in California. She lived a private life, away from the public eye until her death in 1918.
Firsts:
While Caroline Harrison is credited with the beginnings of the White House as a museum, Lucretia Garfield took a keen interest in White House history and planned to make it the cultural center of D.C.; she often went to the Library of Congress to conduct research.
Quotes:
"It is horrible to be a man. But the grinding misery of being a woman between the upper and nether millstone of household cares and training children is almost as bad. To be half civilized with some aspirations for enlightenment and obliged to spend the largest part of the time the victim of young barbarians keeps one in a perpetual ferment."
Add to Calendar
aCLuDhaqizCaPxAftmqF167204
04/19/2024
04/19/2024
true
Lucretia Rudolph Garfield
Lucretia Rudolph Garfield—Born April 19, 1832 (Garrettsville, OH). Died March 13, 1918 (South Pasadena, CA). White House Years: March 1881 to September 1881 First Lady Lucretia Garfield preferred learning to social gatherings, and she and her husband attended literary society meetings while he worked in Congress. Lucretia and James Garfield grew up together but didn't consider a marriage until they ran into each other at the Western Reserve Eclectic Institute. Lucretia Garfield fell gravely ill with malaria shortly after entering the White House; she recovered in New Jersey instead of the capital, but as soon as she heard of the shooting of her husband, she quickly returned to be with him. For three months Lucretia Garfield sat by her husband's side. The country respected her bravery and strength. Following her husband's death, Lucretia Garfield moved her family back to Ohio and spent time in California. She lived a private life, away from the public eye until her death in 1918. Firsts: While Caroline Harrison is credited with the beginnings of the White House as a museum, Lucretia Garfield took a keen interest in White House history and planned to make it the cultural center of D.C.; she often went to the Library of Congress to conduct research. Quotes: "It is horrible to be a man. But the grinding misery of being a woman between the upper and nether millstone of household cares and training children is almost as bad. To be half civilized with some aspirations for enlightenment and obliged to spend the largest part of the time the victim of young barbarians keeps one in a perpetual ferment."
----
---