Details

April 8, 2024
Elizabeth "Betty" Bloomer Ford
April 8, 1918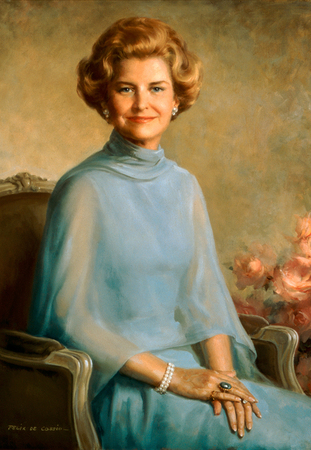 Elizabeth "Betty" Bloomer Ford—Born April 8, 1918 (Chicago, IL). Died July 8, 2011 (Rancho Mirage, CA)
White House Years: 1974-1977
First Lady Betty Ford studied modern dance at Bennington College in Vermont, and later joined Martha Graham's concert group in New York City.
Betty Ford underwent surgery for breast cancer in 1974. She openly talked about her cancer in hopes of informing other women of its signs, symptoms, and treatment options resulting in many women getting life-saving mammograms.
Betty Ford supported the Equal Rights Amendment and actively worked for its passage. In 1975 during the International Women's Year, she gave a speech supporting women's rights and the ERA stating that her husband's position should not prevent her from speaking on important subjects.
She gave an interview to 60 Minutes and touched on several sensitive topics such as premarital sex, marijuana use, abortion rights, and divorce.
Firsts:
She was named one of Time's "Women of the Year" in 1975 for her willingness to speak out. She was the first first lady to make the list.
After serving as first lady, she went public with her addiction struggles and helped open the Hazeldon Betty Ford Center for alcohol and drug abuse treatment in California.
Quotes:
"The search for human freedom can never be complete without freedom for women."
Add to Calendar
aCLuDhaqizCaPxAftmqF167204
04/08/2024
04/08/2024
true
Elizabeth "Betty" Bloomer Ford
Elizabeth "Betty" Bloomer Ford—Born April 8, 1918 (Chicago, IL). Died July 8, 2011 (Rancho Mirage, CA) White House Years: 1974-1977 First Lady Betty Ford studied modern dance at Bennington College in Vermont, and later joined Martha Graham's concert group in New York City. Betty Ford underwent surgery for breast cancer in 1974. She openly talked about her cancer in hopes of informing other women of its signs, symptoms, and treatment options resulting in many women getting life-saving mammograms. Betty Ford supported the Equal Rights Amendment and actively worked for its passage. In 1975 during the International Women's Year, she gave a speech supporting women's rights and the ERA stating that her husband's position should not prevent her from speaking on important subjects. She gave an interview to 60 Minutes and touched on several sensitive topics such as premarital sex, marijuana use, abortion rights, and divorce. Firsts: She was named one of Time's "Women of the Year" in 1975 for her willingness to speak out. She was the first first lady to make the list. After serving as first lady, she went public with her addiction struggles and helped open the Hazeldon Betty Ford Center for alcohol and drug abuse treatment in California. Quotes: "The search for human freedom can never be complete without freedom for women."
----
---