Details

March 16, 2024
Patricia "Pat" Ryan Nixon
March 16, 1912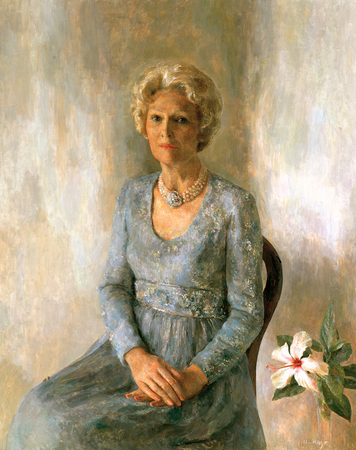 Patricia "Pat" Nixon—Born March 16, 1912 (Ely, NV). Died June 22, 1993 (Park Ridge, NJ).
White House Years: 1969-1974
Pat Nixon's birth name was Thelma Catherine but her Irish father called her Patricia "Pat" because of her birth near St. Patrick's Day.
First Lady Pat Nixon assumed a role of leadership at just 13 when her mother passed away, and she maintained the house while her two older brothers and father worked.
After the loss of her father at age 18, she worked two part-time jobs to pay for college first at Fullerton College and later at the University of Southern California, from which she graduated in 1937.
Pat Nixon met Richard Nixon when they were both cast in a play from the Little Theater group, and they married in 1940.
When she became first lady, Pat Nixon emphasized volunteer service. She was one of the most well-traveled first ladies visiting a total of 80 countries. She took a solo trip to Peru to assist with earthquake relief, and she was a diplomat on behalf of the president to Africa.
She made the White House accessible for visitors and expanded White House collections.
During the Watergate scandal, Pat Nixon supported her husband, faithfully sticking by his side despite the criticism he received.
Firsts:
Pat Nixon was the first first lady to enter a combat zone.
Pat Nixon was the first first lady to travel to Africa, China, and the Soviet Union.
Pat Nixon was the first first lady to wear slacks in public.
Quotes:
"Being first lady is the hardest unpaid job in the world."
Add to Calendar
aCLuDhaqizCaPxAftmqF167204
03/16/2024
03/16/2024
true
Patricia "Pat" Ryan Nixon
Patricia "Pat" Nixon—Born March 16, 1912 (Ely, NV). Died June 22, 1993 (Park Ridge, NJ). White House Years: 1969-1974 Pat Nixon's birth name was Thelma Catherine but her Irish father called her Patricia "Pat" because of her birth near St. Patrick's Day. First Lady Pat Nixon assumed a role of leadership at just 13 when her mother passed away, and she maintained the house while her two older brothers and father worked. After the loss of her father at age 18, she worked two part-time jobs to pay for college first at Fullerton College and later at the University of Southern California, from which she graduated in 1937. Pat Nixon met Richard Nixon when they were both cast in a play from the Little Theater group, and they married in 1940. When she became first lady, Pat Nixon emphasized volunteer service. She was one of the most well-traveled first ladies visiting a total of 80 countries. She took a solo trip to Peru to assist with earthquake relief, and she was a diplomat on behalf of the president to Africa. She made the White House accessible for visitors and expanded White House collections. During the Watergate scandal, Pat Nixon supported her husband, faithfully sticking by his side despite the criticism he received. Firsts: Pat Nixon was the first first lady to enter a combat zone. Pat Nixon was the first first lady to travel to Africa, China, and the Soviet Union. Pat Nixon was the first first lady to wear slacks in public. Quotes: "Being first lady is the hardest unpaid job in the world."
----
---