Details

January 26, 2024
Julia Dent Grant
January 26, 1826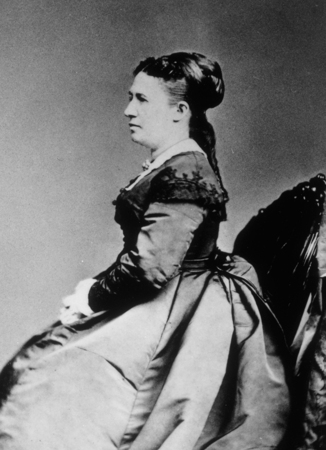 Julia Boggs Dent Grant—Born January 26, 1826 (St. Louis, MO). Died December 14, 1902 (Washington, D.C.).
White House Years: 1869-1877
First Lady Julia Grant grew up on a small plantation near St. Louis, and she described her childhood as being nothing but pleasant. Her father used enslaved workers on their farm.
Julia attended a one-room school and then Miss Mauros' boarding school in St. Louis with the daughters of other wealthy families.
Ulysses Grant was her brother Frederick's roommate at West Point. She met him when he was stationed near St. Louis and her brother brought him home to meet the family.
Julia Grant supported her husband's military career and his civilian pursuits after he resigned even though they were not successful. She was with him frequently on the front when he re-entered the military during the Civil War.
She encouraged her husband's run for the presidency and relished her role as first lady. She recalled her time in the White House as the best part of her life. She oversaw improvements on the White House and brought back entertaining after the war.
Even after her husband's passing, Julia Grant remained faithful to him, overseeing details for his tomb in New York City. She attended the dedication in 1897. She was buried next to him upon her death in 1902.
She was the first first lady to be recorded on film.
Julia Grant wrote The Personal Memoirs of Julia Dent Grant, although it was not published until 1975.
Quote:
"I always knew my husband would rise in the world. I believed he would someday inhabit the highest office in the land. I felt this even when we were newly married, and he was making a mere pittance in salary."
Add to Calendar
aCLuDhaqizCaPxAftmqF167204
01/26/2024
01/26/2024
true
Julia Dent Grant
Julia Boggs Dent Grant—Born January 26, 1826 (St. Louis, MO). Died December 14, 1902 (Washington, D.C.). White House Years: 1869-1877 First Lady Julia Grant grew up on a small plantation near St. Louis, and she described her childhood as being nothing but pleasant. Her father used enslaved workers on their farm. Julia attended a one-room school and then Miss Mauros' boarding school in St. Louis with the daughters of other wealthy families. Ulysses Grant was her brother Frederick's roommate at West Point. She met him when he was stationed near St. Louis and her brother brought him home to meet the family. Julia Grant supported her husband's military career and his civilian pursuits after he resigned even though they were not successful. She was with him frequently on the front when he re-entered the military during the Civil War. She encouraged her husband's run for the presidency and relished her role as first lady. She recalled her time in the White House as the best part of her life. She oversaw improvements on the White House and brought back entertaining after the war. Even after her husband's passing, Julia Grant remained faithful to him, overseeing details for his tomb in New York City. She attended the dedication in 1897. She was buried next to him upon her death in 1902. She was the first first lady to be recorded on film. Julia Grant wrote The Personal Memoirs of Julia Dent Grant, although it was not published until 1975. Quote: "I always knew my husband would rise in the world. I believed he would someday inhabit the highest office in the land. I felt this even when we were newly married, and he was making a mere pittance in salary."
----
---