Details

January 17, 2024
Michelle Robinson Obama
January 17, 1964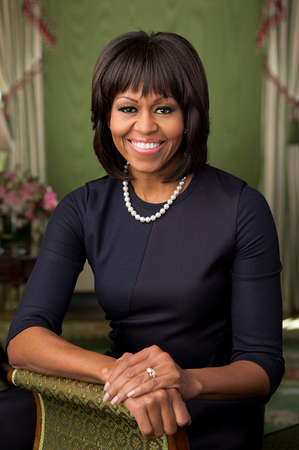 Michelle LaVaughn Robinson Obama—Born January 17, 1964 (Chicago, IL) January 17, 1964 (Chicago, IL).
White House Years: 2009-2017
Michelle Robinson Obama grew up in Chicago, where she learned from an early age the value of hard work and a good education from her parents. She graduated from Princeton and earned a juris doctor degree from Harvard Law School. She was the second first lady to hold a law degree after Hillary Clinton.
She met her husband when he was a summer associate at the law firm where she worked. She at first resisted dating since she was his mentor but eventually accepted.
Michelle Obama had an impressive career: she was the founding executive director of the Chicago chapter of PublicAllies, which focuses on teaching young people how to work in public service. She was an associate dean of student services at the University of Chicago, starting their first community service program. She also served as vice president of community and external affairs at the University of Chicago Medical Center.
Michelle Obama was the first African American first lady.
As first lady, Michelle Obama started the program Let's Move! to end childhood obesity within a generation and Joining Forces to support military families.
In her second term as first lady, Michelle Obama started the Reach Higher Initiative to help students learn about different job opportunities and the qualifications for those fields.
She was the first first lady to announce an award at the Oscars—"Argo" for Best Picture in 2013.
Quote:
"I admit it: I am louder than the average human being and have no fear of speaking my mind. These traits don't come from the color of my skin but from an unwavering belief in my own intelligence."
Add to Calendar
aCLuDhaqizCaPxAftmqF167204
01/17/2024
01/17/2024
true
Michelle Robinson Obama
Michelle LaVaughn Robinson Obama—Born January 17, 1964 (Chicago, IL) January 17, 1964 (Chicago, IL). White House Years: 2009-2017 Michelle Robinson Obama grew up in Chicago, where she learned from an early age the value of hard work and a good education from her parents. She graduated from Princeton and earned a juris doctor degree from Harvard Law School. She was the second first lady to hold a law degree after Hillary Clinton. She met her husband when he was a summer associate at the law firm where she worked. She at first resisted dating since she was his mentor but eventually accepted. Michelle Obama had an impressive career: she was the founding executive director of the Chicago chapter of PublicAllies, which focuses on teaching young people how to work in public service. She was an associate dean of student services at the University of Chicago, starting their first community service program. She also served as vice president of community and external affairs at the University of Chicago Medical Center. Michelle Obama was the first African American first lady. As first lady, Michelle Obama started the program Let's Move! to end childhood obesity within a generation and Joining Forces to support military families. In her second term as first lady, Michelle Obama started the Reach Higher Initiative to help students learn about different job opportunities and the qualifications for those fields. She was the first first lady to announce an award at the Oscars—"Argo" for Best Picture in 2013. Quote: "I admit it: I am louder than the average human being and have no fear of speaking my mind. These traits don't come from the color of my skin but from an unwavering belief in my own intelligence."  
----
---