Details

January 3, 2024
Grace Goodhue Coolidge
January 3, 1879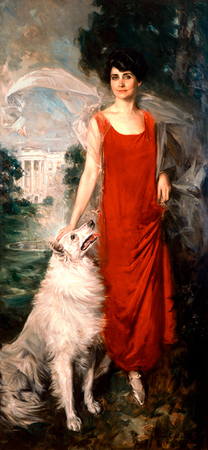 Grace Anna Goodhue Coolidge—Born January 3, 1879 (Burlington, VT). Died July 8, 1957 (Northampton, MA).
White House Years: 1923-1929
Grace Coolidge grew up in Burlington, Vermont and graduated from the University of Vermont in 1902 with a degree in teaching. After graduation she moved to Northampton, Massachusetts to teach at the Clarke School for the Deaf.
She met Calvin Coolidge in 1904 and they were married in 1905.
Where Calvin Coolidge was reserved or shy, Grace Coolidge made up for it in her outgoing personality and contributed to her husband's rise in the political arena.
Despite moving from a small, quiet town in the Northeast to the nation's capital, Grace Coolidge made the transition effortlessly and soon became popular in Washington, D.C first as second lady and later as first lady.
Grace Coolidge had a sense of adventure, and after the death of her husband in 1933, she bought a smaller house and tried many new activities such as flying in an airplane and traveling around Europe. Her spirit of adventure stayed with her until her death in 1957.
Firsts:
Grace Coolidge was the first (and only) first lady to be born in Vermont.
Grace Coolidge was the first first lady to obtain a four-year undergraduate degree from the University of Vermont.
Just as Calvin Coolidge was the first president to do a radio broadcast, Grace Coolidge was the first first lady to speak in sound newsreels.
Quote:
"This was I and not yet I, this was the wife of the President of the United States, and she took precedence over me; my personal like and dislikes must be subordinated to the consideration of those things which were required of her."
Add to Calendar
aCLuDhaqizCaPxAftmqF167204
01/03/2024
01/03/2024
true
Grace Goodhue Coolidge
Grace Anna Goodhue Coolidge—Born January 3, 1879 (Burlington, VT). Died July 8, 1957 (Northampton, MA). White House Years: 1923-1929 Grace Coolidge grew up in Burlington, Vermont and graduated from the University of Vermont in 1902 with a degree in teaching. After graduation she moved to Northampton, Massachusetts to teach at the Clarke School for the Deaf. She met Calvin Coolidge in 1904 and they were married in 1905. Where Calvin Coolidge was reserved or shy, Grace Coolidge made up for it in her outgoing personality and contributed to her husband's rise in the political arena. Despite moving from a small, quiet town in the Northeast to the nation's capital, Grace Coolidge made the transition effortlessly and soon became popular in Washington, D.C first as second lady and later as first lady. Grace Coolidge had a sense of adventure, and after the death of her husband in 1933, she bought a smaller house and tried many new activities such as flying in an airplane and traveling around Europe. Her spirit of adventure stayed with her until her death in 1957. Firsts: Grace Coolidge was the first (and only) first lady to be born in Vermont. Grace Coolidge was the first first lady to obtain a four-year undergraduate degree from the University of Vermont. Just as Calvin Coolidge was the first president to do a radio broadcast, Grace Coolidge was the first first lady to speak in sound newsreels. Quote: "This was I and not yet I, this was the wife of the President of the United States, and she took precedence over me; my personal like and dislikes must be subordinated to the consideration of those things which were required of her."
----
---